Truly Inspirational My Mother essay in English with Important headwords described in 200, 500+ words, based on the given outlines.
A great help to students (class 1, 2, 3 up to 9th) who are preparing for their exam or looking for tips on how to write a good speech on school function.
Generally, the teacher asks students to write an essay on "your mother". Why do you love and respect your mother? What is your opinion about her?
Briefly highlighted some of her best qualities. This essay is dedicated to all mothers & Quick points about My Mother Essay 10 Lines for school students of classes 1, 2, 3, 4, 6, 7, 8, 9, 10 & 12th.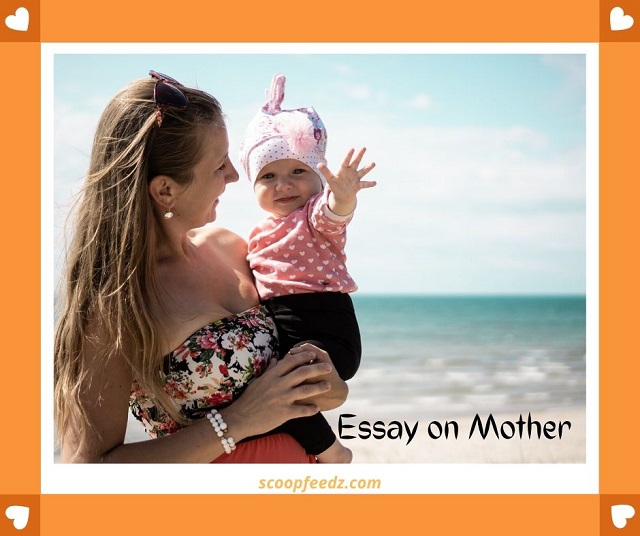 Mother Essay Outline
Introduction
Habits & Dress
Domestic Duties
Behaviour
Qualities
Conclusion
My Mother Essay In English 500 Words | Essay on Mother
Introduction
For me, My mother is the best person whom I can trust blindly. She has an important place in my life, she is always by my side, supporting & directed me.
When I was a child, my mother not only helps me in my studies but also plays with me. She belongs to a respected family.
She is literate and sensible enough to take decisions whenever required. Everybody in the family respects her and obeys her.
Habits & Dress
She leads a normal life. She is never after modern fashion. Generally, she puts on a saree and other traditional dresses.
She follows the principle of simple living and high thinking. She gets up early in the morning and goes to bed very late at night by wrapping up all the daily tasks.
Domestic Duties
She does every work of the house and takes care of all other things. She has the sole responsibility for our family.
She takes much interest in her work. After having a bath, she prepares tea for all our family members. At about, 9 o'clock, she prepares a break for us.
She is doing all things on her own, she manages everything without the help of a servant. She is proficient in household work.
Behaviour
She is sweet in her behaviour, kind-hearted, handling serious matters politely. She is respected in our society.
Towards her children, she is all lovable. in the company of her age group, she is always cheerful and motivates others to stay positive in life.
She has much respect for my father. She never becomes angry over petty matters. She never loses courage and patience. I have never seen her restless in her life.
Qualities
There are loads of good qualities about her, she is busy & enjoys working for us. She doesn't waste her time in chit-chatting with others and doesn't like to sit idle.
She hates people telling a lie. She is kind and sympathetic. She is sincere and honest in her dealings.
She takes a keen interest in the education of her children, always motivate us and gives good advice. She is religious-minded and believes in God's existence as my father.
She worships every day, morning and evening, and believes that her day is incomplete without worship.
READ | Brilliant (3+) Essay on My favourite Teacher
Every time she thinks about her family, I would say she is the most important person in our family. She advises us to be honest, sincere and good.
Conclusion
On the account of her qualities and polite behaviour, everybody likes her very much. We all love her very much. She is the backbone of the family.
She has brought happiness to the house. I am proud of her, I think myself lucky to have such an idle mother.
My Mother Essay for Class 2, 3, 4, 8 & 10th (200+ Words)
A "Mother", is not just a word, it is a powerhouse of love & affection for every child. We can't expect Life without a mother.
Nothing could be possible, no human existence or human evolution couldn't have been possible without women.
In another word, Mother is the best for children, God's beautiful creation on this earth.
When a newborn is born, he or she recognizes only one person that is a mother. For a newborn baby, it is the most precious thing in the world.
A mother sacrifices her entire life around their children, she is ready to do anything for her child. The same affection and love are found not only in humans but also in animals or any living creature.
The mother is the only member of any family, who fight against all odds to save her baby, she comes first when finding that her children are in difficulty.
Mother is concerned about her children's future and no one loves a child more than the mother. There is no substitute for a mother, she is the one who can take the best care of her child.
The mother loves her child more, if necessary she scolded their children when they are on the wrong track or in bad company.
I must say, Mother, is the child's first teacher, as she guided and motivated us.
The mother is the only one who stays with the child in every situation whether good or bad and shows the right direction when distracted. You should respect your mother and never hurt her sentiments.
My Mother Essay for kids, Class 1 to 9
Mother is the best creation of God, she is the only one who sacrificed their whole life around her children. The mother is the creator of humanity, we can't even imagine the world without her.
She is the Child's first teacher "Guru", learn many things from our mother, she loves, cares, guide, inspire us, and is scolded us when required.
Her happiness direction is proportional to ours, when we are happy she is happy when we are upset she is also upset.
Mother-son and Mother-daughter relationships are above everything, we can't express it in words.
She comes forward when she finds her children are in difficulty. Mother "Every mother" can do anything to protect her child.
So before wrapping up this short essay on mothers, you should always have love and the highest regard for your mother. Take care of her when required most especially i.e. old age.
My Mother Essay 10 Lines
Mother is the best gift for every child.
Mother is the symbol of love & affection.
As an educator, she always guided us and teaches us how to deal with a difficult situation
She is always with her children in good or bad times.
A mother's love is unconditional & pure.
Dedicated her life to their children.
A lucky person got Mother's love.
Mother shows the right path & always prays to God for our good health & prosperity.
"Mother" is a powerhouse of happiness.
Now it's our turn to take care of her. Never hurt her feeling.
My Mother Essay Paragraph
Mother is such a precious gem for every child, it's an emotion that can't be expressed in words. It is a well-known saying, that God could not available everywhere, so he created a Mother.
The mother-children are above all relation, it is purest relation exist. Mothers' love is unselfish or unconditional for their children. A mother is a true inspiration for every child.
Although there are some people in everybody's life who someway other inspired us, may be influenced by his risk-taking actions or achievements.
But the person who has been a source of inspiration for me is my mother. Her hard work, selfless spirit, courage and sacrifice for us, have always inspired me.
The mother's role is very important in shaping a child's career, she teaches everything such as how to behave well with others, to be honest, and hard work.
I consider myself lucky to have my mother as a mentor, friend and motivator.
My Mothers Essay Quotes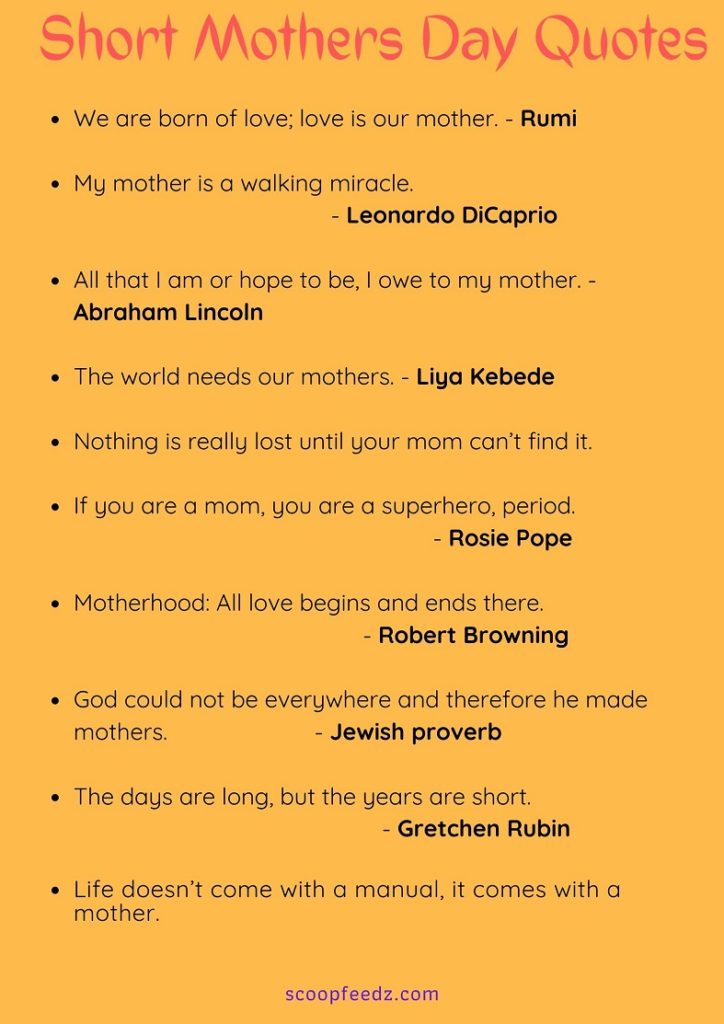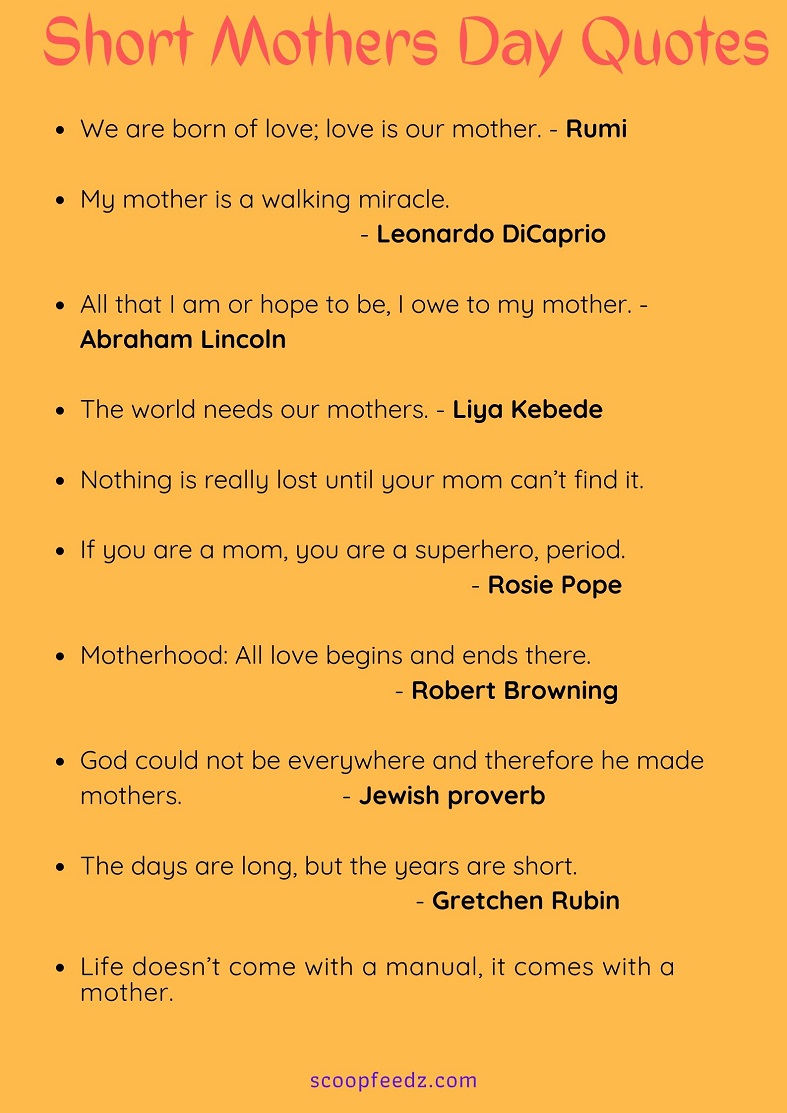 DON'T MISS | Essay on Importance of Discipline in Student's Life