We take you through My Last Day at School Essay for students of class 1, 2, 3, 4, 6, 7, 8, 9, 10 & 12th. Also included the best Farewell Speech, it will students to prepare their speech when they are promoted to the higher class.
My Last Day at School Essay
Here we describe an essay on my farewell day at school, in about 250 words based on the following outline.
Introduction
Arrangements
Programme – Prayers, Speech by Students, Teachers and Principal
Conclusion
Introduction
Last year, I was a student of S.A.V Higher secondary school, Mirpur. On 28th February, a farewell function was arranged in the school. It was my last day at school.
Arrangements
There was a meeting, every student was present. Our principal Sri Ram Prasad Saxena was in the chair. Our teachers were also present there sitting on chairs. Students of class 10th were sitting on the benches. Students of other classes were sitting on the carpets.
Programme
The programme started with prayers. Sri Guru Dutt Sharma, the oldest teachers of the school, prayed to God for the success of the students.
Then some students of class 9th spoke a little bit about the farewell of 10th class students, they were all sad. The best speech was made by Harish of IX B. He said he was emotional about his elder brother farewell.
They put noble examples before us to follow. They maintained the discipline of the school. I pray to God for their success in the examination. All of us like the speech very much.
The reply was given by the representative of class 10th. They said, "We have honoured the sentiments of our fellow students. We advised them to obey and respect their teachers.
They should maintain the school discipline". They assured the students of class 9th never forget their love. The best speech made by Raj Narain of class 10th.
Some teachers also spoke about the farewell event. All of them praised us for obedience and hard work. In the end, our principal wished success for us.
Conclusion
Then sweets and teas were served. At that time we were all happy. This was the condition of every student. All the teachers were very kind to us. Everybody was praising us for maintaining discipline, good qualities and hard work.
Essay on Farewell Speech for Students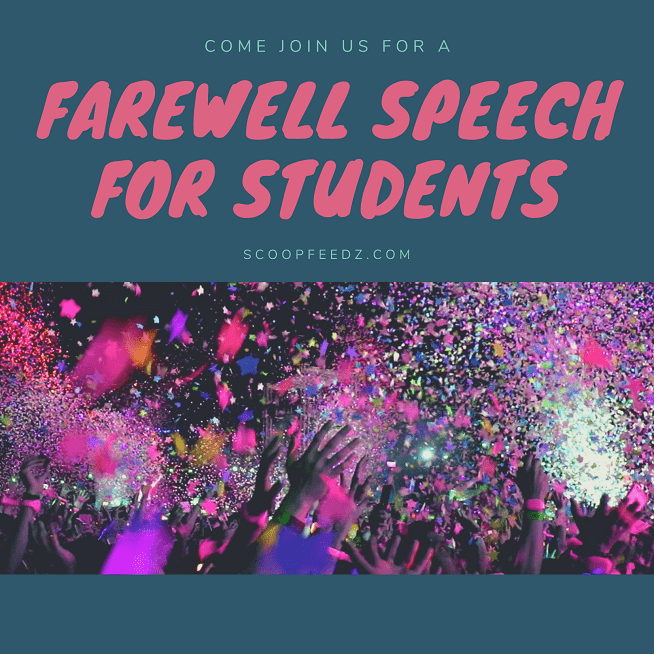 BEST Farewell Speech Essay for Student: There is a tradition in every school that the student in the next lower class gives a farewell party to the outgoing student of the school.
As ours is a high school, student of 9thclass assembles to bid good-bye to the 10th class students. Touching speed is made by teachers and students on this occasion.
Farewell addresses are delivered and tea with cakes, sweetmeats, samosas, pakoras etc. served to the participants. The 10th of March is my last day at school.
The students of 9th class had decorated the school hall with bunting and balloons. A stage was set up for a variety of programme. Our principal presided over the function.
Two-three boys sang while a few other played two small humorous skits in Punjabi, which were liked by all. Then followed a poem Urdu by Pankaj Kumar, he had composed the poem himself to suit the occasion.
ALSO_READ: Favourite Teacher Essay for School Students
Certain verses brought tears to our eyes, so touching they were. After this, one of the students of the 9th class read the farewell address. And I had to make a speech in reply to the farewell address on behalf of the student of 10th class.
I assured our teachers that we would bring honour and name to our school. Then I presented a gift to the principal on behalf of outgoing students.
The principal thanked us for the same and advised us to uphold the honour of the school as usual. He said that the school was proud of us and he was sure that some of us would secure distinctions in the Matriculation result this year.
After this, we had refreshments, served with tea, biscuits, samosas, Gulab-Jamun, burfi, pakoras and dry fruits. It was a memorable party. We thanked the students of 9th class for the same.
After this, there was group photo-session of all the outgoing students along with the Principal and other concerned teachers.
This is done; we took leave of our teachers and student of 9th class. That was my last day at school, quite enjoyable and memorable forever.
My Last Day at School Quotes
Are you looking for the Last day at school quotation on the farewell day? Here is some wonderful line on Last day at school. We also collected some funny image collection that reminds us of our school memory.
No matter how much you think you hate school,you will always miss it when you leave it.
You have never left my mind since that day
The Last Day at School
There is nothing Quite Like
That Eoy Feeling
Reaction on Last Day in School
The two best days at school, The First Day and The Last Day
READ: My School Essay for class 1, 2, 3, 4, 6, 7, 8, 9, 10 & 12th